Ring Sizing Guide
To find your ring size right away, download and print our Ring Sizing Guide below. Please note, if your not sure of your finger size, we will send you our ring sizing kit upon placing your order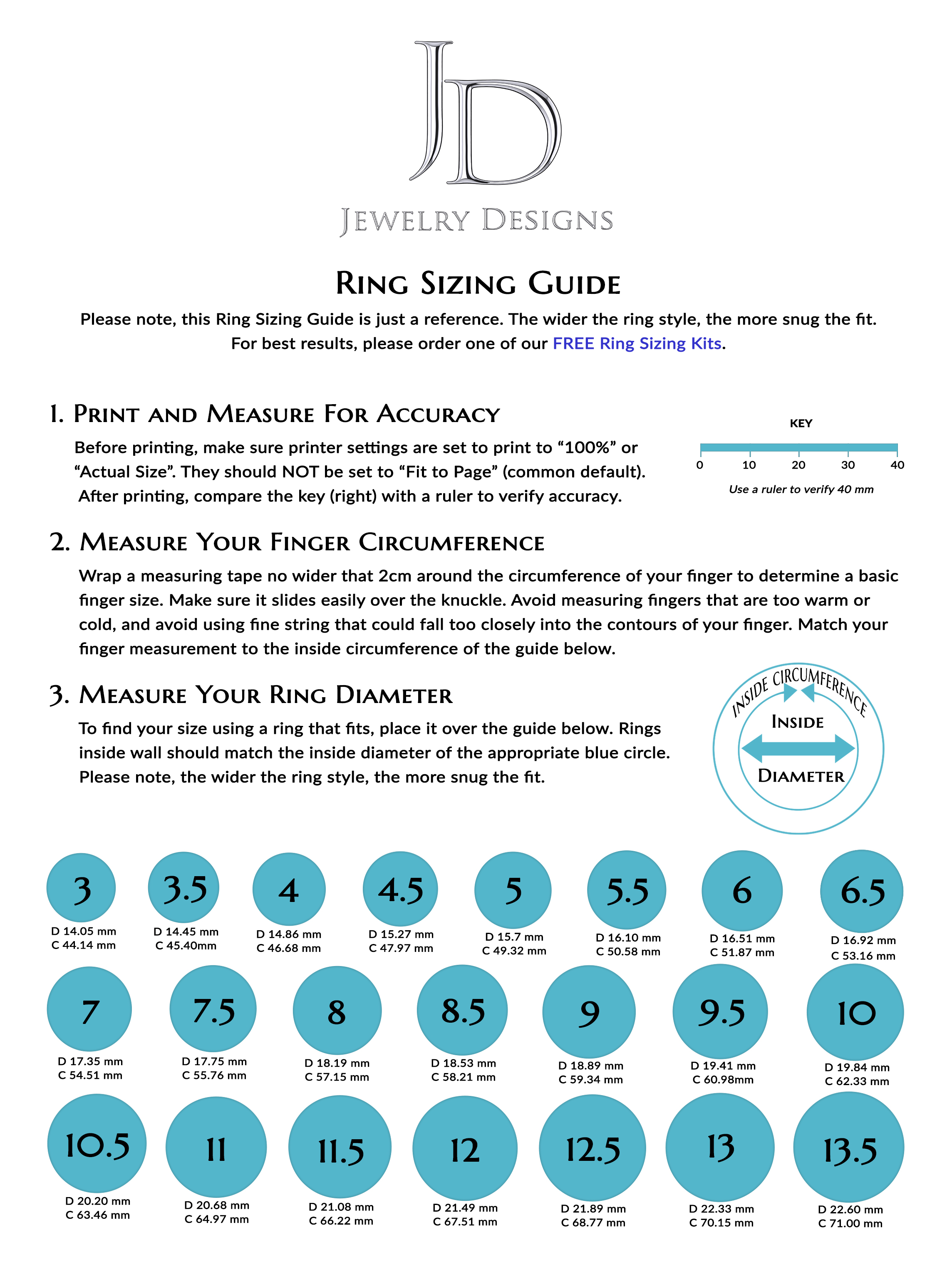 View To Print
How to Measure Your Finger?
With any ring, it should be comfortable enough to slide over the knuckle, but not so loose that it falls off of the knuckle. Please note, the wider the ring style the more snug the fit.

Believe it or not, your finger size can change depending on temperature, time of day, and even the food you eat. Here are a few tips on how to measure your finger accurately:
Aim to measure fingers while indoors once fingers have reached what you consider to be a normal body temperature. Too hot, and fingers will expand, too cold, and fingers will contract causing an inaccurate measurement.
Aim to measure your fingers towards the end of the day once you have warmed up. Avoid measuring fingers when you first wake up, as they tend to be smaller due to inactivity.
Avoid eating excessive amounts of salty food the day of sizing, due to possible water retention and swelling of the fingers.
Measuring your finger at least 2 to 3 times before making a final decision for best results.
What If The Ring I Purchase Doesn't Fit?
Jewelry Designs will resize (non-eternity) ring styles, one time, at no charge, within the first year of purchase. All you have to do is contact our customer service team at 1-800-332-1458 and they will help you to make the necessary arrangements.
Please note, it is important to order eternity ring sizes properly from the start, as many of these eternity styles would have to be completely re-made to preserve stone and pattern continuity. For best results, we will send you our ring sizing kit upon placing your order
If you are unable to visit our Danbury, CT location, you will only be responsible for the shipping cost of your ring to our facility. If you prefer not to ship back and forth, you can always find a local jeweler to size it for you at your own expense.